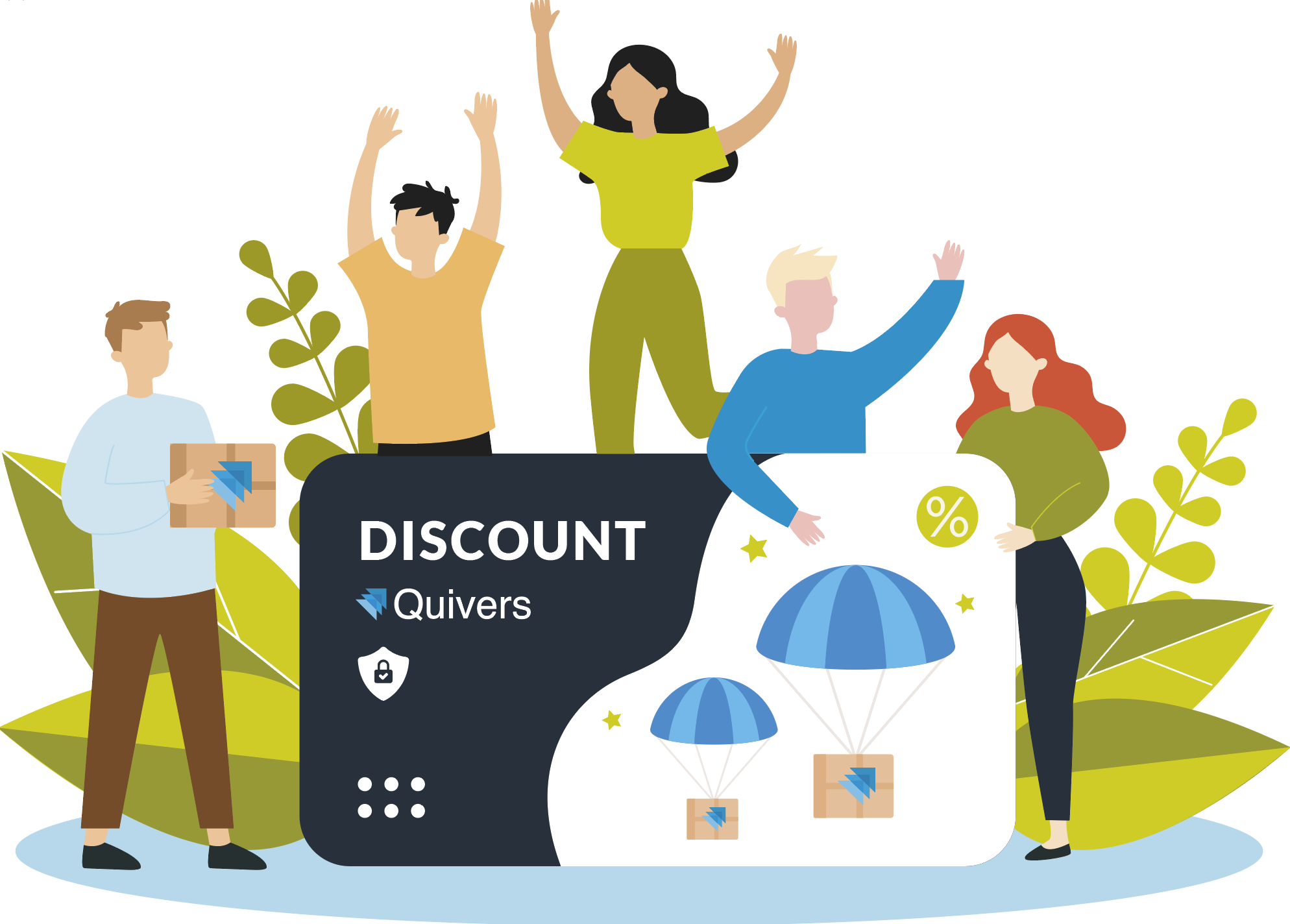 Get the Most from Your Discount Program
Whether it's pro programs, employee incentives, or ambassador rewards, VIP discounts are on the loose, and once they're out the door, brands have little control over who is using them. Many companies have chosen to delegate the entire discount channel to third-party marketplaces and be completely hands-off. These companies may work if you don't want control over who has access to the discounts, what they can purchase, where they can get the products, and how they can add value to your brand. Not only does this approach leave the brand with little control, but it also stresses wholesale relationships and gives zero insight into the effectiveness of those influencers who are getting discounted products.
The good news: Quivers is here to help you design, launch, and manage every aspect of your VIP discounts.
Your VIP Discount Program Is Broken
Do you know the ROI of your VIP discount program? Most brands do not. Between overused discount codes and friends of friends of friends using them, the discount programs for many companies have gotten out of hand. The rampant discounting of your product hurts your brand equity, and it is very seriously straining your wholesale channel by upsetting your specialty retailers. 
Retailers are dropping vendors because out-of-control discounting. When they try to sell at full price and Joe (or Jane) Schmo + friends can get 40% off with a discount code on your site, how can you blame them? 
With the many customizable options of the Quivers platform, you can share profits and fulfillment of discounted orders with your retailers thereby giving them an opportunity to be part of the sale. It's time to take back control of your discount program. The general public should be paying the retail price for your product, and only the most influential and deserving people should be getting a discount. This brings us to our next point. How are you verifying people for your discount program?
Secure the Discount and Secure Your Brand
The rampancy of discount programs has been well-documented. Outdoor Business Journal just released a big piece about it. What is your brand doing to verify the people gaining access to discounts? Failure to do so correctly will quickly condition consumers into thinking you are a discount brand.
With Quivers, you can place your very own pro-store environments behind any authentication on any website. Brands have launched pro stores behind professional organization logins like Professional Ski Instructors of America (PSIA, the American Association of Snowboard Instructors (AASI), and industry-specific organizations like NSP. When members sign into the organization's website, they are verified and given access to the organization-specific pro-store curated by the brand.
Another example is an industry-leading audio brand having a pro store explicitly for employees of a large electronic store chain. When employees login to the chain's internal website, the brand's pro store (powered by Quivers) is hosted behind that authentication, meaning it's completely secure. None of the authentication needs to be handled by the brand as the store can only be accessed by current employees.
How Much is Your Top Influencer Worth to Your Company?
Our guess is that you do not have enough insights to answer this question. Brands tend to choose influencers based on following and popularity, but there is no definitive answer as to the value those influencers bring back to the brand. 
With Quivers pro stores, unique discount stores can be launched for any individual influencer and hosted anywhere. This means the influencer can have a custom store with the brand's products while the brand can easily see how much revenue each influencer is driving through their unique shopping environment. These tailored stores can host specific product variants and pricing options that the brand chooses. No more site-wide discounting for niche audiences. 
Another approach is to assign referral codes to specific influencers. Influencers can offer this unique code or link to their followers to be used directly on the brand website. Using this revenue and value tracking system with Quivers, brands can access a whole new channel of sales that has gone entirely underutilized. All the while, influencers can be directly and accurately incentivized after their initial discount purchase from you.
And that's just the start.  The possibilities with this sort of detailed tracking open up new opportunities. Whether it be by unique QR code, discount code, or url tracking, the Quivers platform helps your brand keep track of the added value and the ROI for influencers. This can allow for influencer incentives, rewards programs, and commission structures for this undervalued sales channel. Some brands are even planning to reward top influencers with trips, additional product, factory tours and more!
Why Quivers?
Using the Quivers platform, brands can close this loop in the influencer and pro store channel to start making use of a unique and highly valuable sales channel. We give you the tools to be as hands-on or hands-off as you like while giving you accurate data and insights into this part of the business that can be provided by no one else.
Advantages to the Quivers platform:
Launch VIP Stores on any website or intranet
Limit product offering and pricing by VIP group
Take control of access to VIP Stores
Fulfill orders directly by the brand and/or involve retailers
Track and calculate ROI of VIPs
Monetize the influencer channel accurately