One System to Take Your eCommerce to the Next Level
More brands than ever are taking their business online and selling direct. This means that competition for eCommerce sales is at an all-time high and it's crucial to set yourself apart. There are a number of things you can do to improve your online shopping experience and gain market share. All of these things can be achieved with Quivers, and we're going to explain how.
Your Product Must be Available to Buy
Otherwise…you know…people can't buy it.
This sounds like a no-brainer and you're probably saying "no sh*t", but you might be surprised just how many businesses get this wrong. According to RetailDive the retail industry is losing over $1 trillion each year due to merchandise that is out-of-stock. This obviously hurts sales, but it also seriously damages your brand reputation and the consumer experience on your website.
To improve your online shopping experience, you must start at the basics. If your product is out-of-stock, consumers can't buy it. They leave your website with a bad taste in their mouth, unlikely to return, and you've lost a sale.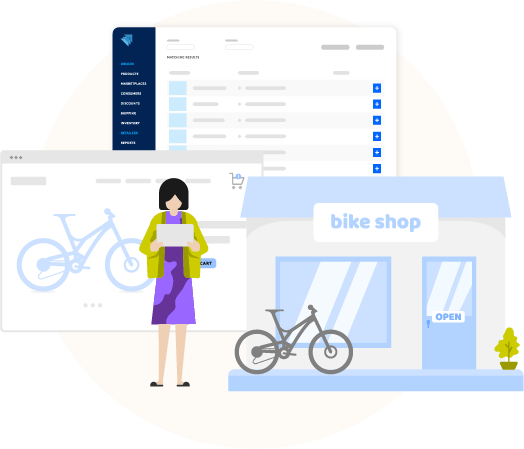 Improve Your Shipping Options
If shipping is slow or expensive consumers will bail and won't come back.
Slow and expensive shipping can be one of the most frustrating things to happen to an online shopper. They finally find the item they want, add it to their cart and then realizing it's going to take a long time or cost a lot extra to get it shipped. Face it, consumers expect free shipping and they expect it to be fast. When your fulfillment options are lacking your consumers are sent packing. So not only have you provided them with a poor online shopping experience but you've also created an abandoned cart, and that consumer won't be back any time soon after seeing your sad fulfillment options.
So we've covered making sure the consumer can actually BUY the item. Now you must make sure the consumer can get what they want at a reasonable cost and in a reasonable time frame. Improve conversion, reduce abandoned carts, improve the shopping experience, get return customers all by providing excellent fulfillment options.
Dealer Locators are Not the Way
Nice gesture? But possibly doing more harm than good.
Dealer locator huh?…Cool, now instead of giving the consumer exactly what they want when they want it you've decided the solution is to send them on a wild goose chase to a place across town that may not even have the item?
What are you trying to achieve here? We're not talking about But Online Pick Up In-Store (BOPIS) here. We're talking about letting a consumer read through the product information, for a high level of purchase intent and then just release them into the wild without capturing a sale, and sending them on potentially unsuccessful ERRAND?
This is bad practice. Sometimes it works out. The consumer leaves your site, grabs their keys, heads to the dealer finds what they were trying to buy, and actually buys it. But is so many extra steps, is it not? Consider the remote chance they actually make it into the store. Now without having actually made a purchase, they are surrounded by competing products. Product that may even be on sale. You've just thrown a potential customer to the wolves!
Instead of a half-hearted attempt at driving foot traffic and sales to your dealer network, we highly suggest checking out our Buy Online Pick Up In-Store solution. With our system, you can capture the sale at the moment of purchase intent and direct consumers to both independent specialty and corporate-owned retail locations. So now the consumer doesn't have to guess. They've purchased the item and WILL go to the store to pick it up, providing much-needed foot traffic and opening the door to additional point of sale purchases.
Quivers is the Key
We can solve the problems you know you have and the problems you didn't know you have.
We hope you've taken what we said seriously. We help many brands solve their eCommerce shopping experience woes with our unique patented software. We would love to walk you through how it works and the many benefits. Get in touch with us to learn more.
Learn more by filling out the form below and we will get in touch with you ASAP!