If your company is experiencing supply chain issues this year you're not alone. Global industries are experiencing significant issues around supply chain, and as a result, out-of-stock situations have blanketed the world of commerce. This is resulting in huge losses in potential revenue, and sales teams with very little to sell. The question we want to kick this blog off with is this: Is your company optimizing inventory that already exists?
If you're a company selling products online and in-store than you may have completely untapped inventory sitting on shelves that could be made available for online purchase. The key here is creating channel-fluid, or omnichannel inventory. Inventory that can be accurately managed across channels by the brand centrally, and sold in-store or online. When brands work closely with brick-and-mortar dealers they are able to more effectively meet demand regardless of channel. This strategy not only creates a holistic approach to selling, it enables accurate and effective ways of offering premium shopping experiences like in-store pickup, ship-from-store, ship-to-store, return-to-store and more.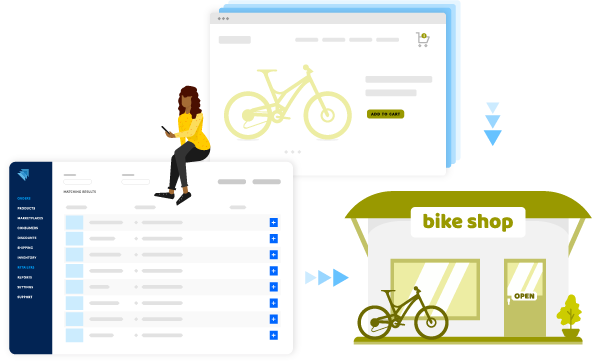 One of the best things brands can do is to "leverage data and evolving tech" to optimize their supply chain. One of the ways you can do that is by pulling in all inventory data from online and offline channels and make it all available anywhere consumers shop.
By integrating all inventory from retail locations with brand-held inventory in warehouses, brands can greatly reduce out-of-stock situations. You may think there are some potential logistical challenges specifically around independent stores, like multiple point-of-sale systems and trying to pull information from multiple platforms into the inventory platform of the brand. Luckily, we at Quivers have solved this, and we are the only ones who can do it.
With the recent launch of Quivers Point of Sale Inventory Sync, we can plug in with most major POS systems including Lightspeed and Quickbooks, and with most major Ecommerce platforms like Magento, Shopify, WooCommerce, and BigCommerce. It's time for brands to start thinking of wholesale and D2C channels as one holistic approach to selling. By doing so with Quivers, brands cannot only create incredible online to offline shopping experiences for consumers but can also realize some very tangible and effective efficiencies within the operations of their business.
To learn more about how Quivers can help your company reduce out-of-stocks and optimize inventory, fill out the form below and we will get in touch with you.