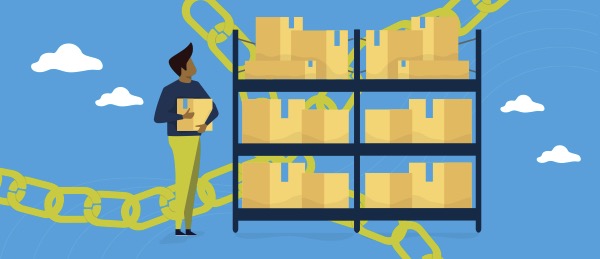 Darkness. A retail employee struggles to squeeze through a small gap. There are snowboards, skis and goggles everywhere. No, this isn't the aftermath of a blizzard, but an ambitious retailer's back-of-store stockroom space.
Overstocking is back with a vengeance, and it isn't just limited to the winter sports industry: This year, brands have made their highest wholesales (sell-in to retailers) for quite some time.
Absolute Bullwhip
If you're wondering why so many retailers have been overstocking, then you won't be surprised to learn we can point the finger at our old friend COVID-19 and the subsequent supply chain crisis it caused.
Last year, many retailers played their hand at overcoming the unpredictability of shipping by ordering more aggressively than normal. Unfortunately, this meant that when supply chain issues eased it all started to catch up with them. Some retailers were left with a massive surplus of stock — a phenomenon that has been dubbed the "bullwhip effect."
Weather Report
If you're confused, don't worry — it seems like plenty of retailers are too. To get to the bottom of this, we should probably examine the current retail climate.
Last year it seemed like foot traffic was bouncing back. The novelty of getting back outside for the first time was felt by many, as numbers leaped up from 2020. But it's not all smooth sailing: there are still fluctuations, and variants like Omicron have the potential to wreak havoc on in-store shopping at any moment. While brick and mortar stores will likely see more traffic than in the previous two years, numbers are still down on pre-pandemic 2019.
The "new normal" involves an ever-fluctuating balance between online and offline shopping, and companies that don't have the right tools to juggle the two are often left hanging.
Another trend we've seen is a rise in brand affinity. Specialty shoppers are increasingly going to the brand's website first when shopping. This is something to keep an eye on: data shows Gen Z gaining more and more buying power as they age, and their cohort drives "new" consumer behaviors such as buying from brands directly.
Once the Dust Has Settled…
So, we understand the current retail climate and the fact that many retailers have been overstocking, but when push comes to shove, who exactly is feeling the heat?
Well, retailers should be worried about a glut of dead inventory. The costs of storing overstocked products mount quickly and their only option will be some heavy discounting come season's end.
Consumers will feel like they're winning: After the supply chain crisis meant discounts practically disappeared last year, the return of special offers is bound to go down well among the general population.
But what about brands? Surely once they've sold their products to retailers it's no longer their problem? Wrong… and here's why:
Firstly, some anxious retailers put pressure on brands to buy back unsold products. Intent on avoiding conflict with their retail network, some brands give in and are left with the deadstock themselves.
Secondly, brands that have sold so much stock to retailers are often holding little in their own warehouses for direct fulfillment of ecommerce orders. In a climate where more and more consumers are looking to buy directly from the brand, it would be a disaster to not be able to fulfill just because the product is in the wrong place.
Whichever way you put it, overstocking leaves brands and retailers with their inventory levels out of whack. The good news is that there is a remedy, and it's called Quivers. Quivers is the full-service commerce partner that helps you fulfill orders more flexibly, regardless of where the inventory sits.
Our collaborative commerce platform allows you to expand your fulfillment options to include the likes of BOPIS (buy online, pick up in-store), Ship-from-Store and Ship-to-Store, and much more. These hybrid fulfillment options, along with our Point of Sale Inventory Sync technology — which pulls real-time inventory information from your retail network and syncs it to your brand's ecommerce site — allow you to take control of imperfect inventory levels and convert more.
It's a win-win for all: Relieved retailers now have the option of getting rid of overstocked products when orders are made directly on your brand's website.
Overstocking often comes from poor inventory management, but it doesn't have to be fatal. With Quivers' sophisticated software suite, this could be the perfect moment to ensure that your inventory and fulfillment options are flexible enough to withstand any bullwhip, overstocking, or (literal or metaphorical) blizzards that come your way.
To learn more about how Quivers can support your brand during challenging times, request a demo from us today.