Order fulfillment software can do more than just get your product from 'A' to 'B'. It can open doors you didn't even know existed.
When taking a brand direct-to-consumer there are a number of obstacles to tackle when it comes to distribution. As a B2B business, you're fully equipped to ship large wholesale orders but doing anything else poses some challenges, and to do it well you need to make sure your order fulfillment software enables you to not just survive being B2C, but thrive. This article on Shopify highlights many of the struggles associated with finding a shipping partner. And guess what? We address all of them.
With Quivers' fulfillment software you don't need to worry about costly and tedious warehousing operations.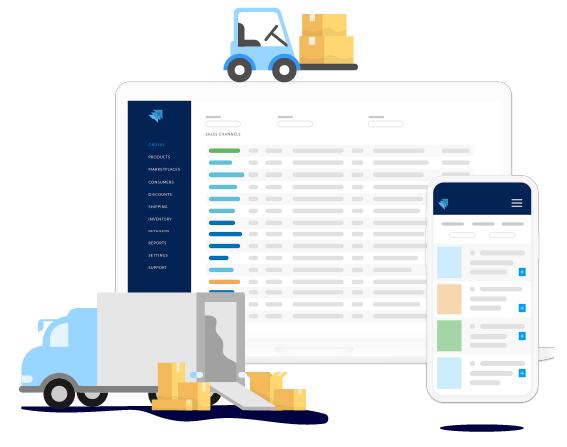 Enable Fulfillment of Small Orders
You may be fully equipped to ship large B2B orders, but how do you efficiently distribute small volume orders?
Shipping large orders to wholesalers has been your bread and butter. Your product leaves the factory on a pallet and is off to a shop on a big truck (or something of that nature). What you may struggle with is how to fulfill these small quantity orders. This is an issue our Fulfilled by Retailer system can address easily without the need for additional warehousing or distribution centers. In other words, our system can save your company a lot of time and money.
By using the Quivers Fulfillment by Retailer software, you can connect your eCommerce platform with your independent and corporate stores to fulfill online orders on behalf of the brand. Smaller stores are well-equipped to fulfill these orders, and our system can connect you with their inventory to create a seamless B2C fulfillment process.
Break Into International Markets Easily
If you've got retailers, you've got distribution.
Generally, international distribution is a costly, complicated, and time-consuming effort. Quivers, however, is not your run-of-the-mill fulfillment solution. We break down the literal and figurative barriers to help your brand achieve global distribution.
If you have international retailers you have distribution. You already know our software connects online orders with stocking wholesalers. That doesn't just apply to domestic retailers but international retailers as well. Which means your company can skip the headache involved in setting up international warehouses and distribution centers. Simply allow those retailers to act as miniature distribution centers.
In the wake of Covid there are some other advantages to this system. International shipping has experienced incredible slowdowns and disruptions. Opening up a new warehouse that can only be occupied at limited capacity, the management of operations and compliance with local Covid policies adds another element of complexity that our system gracefully circumnavigates.
Offer Popular Fulfillment Choices Like In-Store Pickup
Consumer fulfillment preferences are changing. Stay in the loop.
The single most popular trend in fulfillment in the last two years has undoubtedly been the rise in popularity of "Buy Online Pickup In-Store" (BOPIS). Because our system is so closely in-tune with your retailer's inventory, it's incredibly easy to offer options like BOPIS as well as many other emerging fulfillment options.
With Quivers' order fulfillment software, you are given ultimate control over your fulfillment and the options you offer to consumers. "Ship from Store", "Buy In-Store Fulfill by Brand", "Buy Online Pickup In-Store" and more are all possible with our flexible, simple, and effective solution. We also plug-in with all major eCommerce platforms like Shopify, Magento, BigCommerce, WooCommerce, and more.
To learn more about our order fulfillment software, please get in touch with us by filling out the form below.