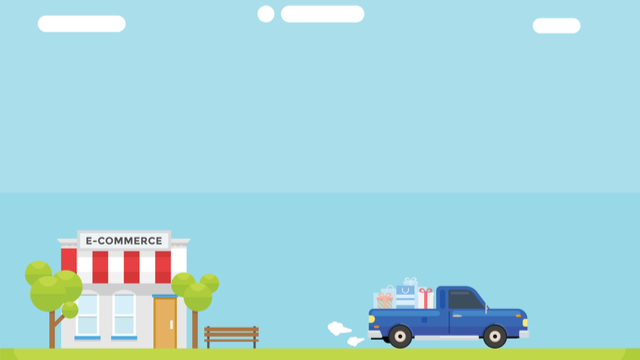 What does BOPIS stand for?
You may have heard of click-and-collect before, and BOPIS — meaning buy online pick up in-store — is essentially the same thing. It allows a customer to order a product online and then pick up their order at a physical store. With the emergence of the pandemic and ongoing supply chain crisis, many retailers have sought creative solutions such as BOPIS and curbside pickup to keep them on their feet.
BOPIS retail growth
Buy online, pick up in-store (BOPIS) is having a real moment, particularly when it comes to ordering specialty items, as customers try to get their hands on scarce items before stores run out of stock.
This alternative fulfillment solution took off as businesses sought to adhere to safe distancing rules. In 2020, US click-and-collect sales more than doubled at 106.9%, and BOPIS orders in 2021 were forecasted to rise at a rate of 15.2%. According to Insider Intelligence estimates, double-digit growth rates are expected to continue through 2024.
BOPIS order fulfillment has become an essential ecommerce feature. In 2020, 9.1% of ecommerce sales used BOPIS, and the rate for 2021 was expected to be 9.9%. McKinsey's research shows that 60% of users plan to continue using the service after the pandemic is over, and Forbes states that it will be one of the biggest shopping trends for 2022.
Buying online and in-store pickup is clearly here to stay. Brands and retailers who ignore this trend by not offering a collect service will most certainly lose out, not only on online sales but on in-store footfall too.
Improved customer experience
Apart from dodging in-store queues through BOPIS, customers are very happy to save on shipping costs and are no longer prepared to wait all day at home for an item that may or may not arrive. Add to that the peace of mind of securing a handcrafted vintage guitar before it goes out of stock, or trying on a pair of ski boots before buying, and BOPIS is fast becoming a no-brainer for many shoppers. It is no longer necessary to compromise on the convenience of ordering an item online or the customer service on offer at your local store, with BOPIS you have the best of both worlds.
Better for brands
It's not only the consumer who benefits from BOPIS. For brands, including specialty brands as well as independent retailers, the good news is that shoppers who buy online are more likely to check out if click-and-collect is one of the fulfillment options. 50% of consumers say they decide where to shop online based on whether or not they can pick-up in store.
What's more, customers who pick up their purchases in-store, or from a nearby independent retailer stocking the specialty brand they're after, are more likely to purchase additional items when they pick up their goods in-store. BOPIS works on many levels: it takes online orders, provides a convenient collection point, and brings more footfall.
BOPIS challenges
Of course, BOPIS doesn't come without challenges for brands and retailers. One of the biggest logistical nightmares vendors face is keeping tabs on products that can now be ordered 24 hours a day and ensuring there is enough stock for in-store pickup at any given point.
The complexities of adding a BOPIS feature may seem daunting and mismanagement of implementation could cause more problems than it solves. If BOPIS is all about customer convenience, any issues with inventory availability would render it counterproductive. With the ongoing supply chain crisis, the accuracy with which retailers handle inventory is more important than ever.
Another obstacle is technology. When a retailer is limited to its existing tech stack infrastructure this could lead to compatibility issues with the implementation of an efficient BOPIS system.
Likewise, a more elaborate BOPIS system can be difficult to implement. Some brands have been able to offer in-store pickup at their corporate-owned stores, but have faced technological obstacles, especially when trying to fulfill BOPIS orders with external retailers.
Finally, it is essential that the physical in-store pickup location is fully optimized for the collection of BOPIS orders. If not enough thought has been put into store layout there could be disappointed customers and lost cross-selling opportunities. Furthermore, staff who are not up to speed with the intricacies of the BOPIS system may complicate the process.
What is the solution?
Implementing an effective and streamlined BOPIS system isn't simple. Staff may need to be trained in how to process these orders and the part of the store where customers can collect items should maximize cross-sell potential.
Retailers need to ensure that their implementation of BOPIS is compatible with all existing tech stack infrastructure, and this can be a costly and time-consuming process. Likewise, if a brand is seeking to fulfill orders with external retailers, these retailers also need to be on the same page technologically.
What's more, it is of utmost importance to have an effective inventory management system that can handle real-time changes and sync to ensure customers are never left disappointed by stock mismanagement.

How can we help?
As the collaborative commerce experts, Quivers is constantly searching for new ways to improve the online/in-store experience. Our BOPIS features are now integrated into major ecommerce platforms, allowing brands to easily and seamlessly deploy in-store pickup with their external retailers and independent specialty retail network (as well as corporate-owned stores) as part of their existing ecommerce platform.
Crucially, Quivers' BOPIS features are driven by the platform's native Point of Sale Inventory Sync technology — which pulls real-time inventory information from the retail network and syncs it to the brand's ecommerce site. This means clients will never arrive to pick up an item that is out of stock.
"BOPIS fulfillment lets brands meet specialty consumers' desire to purchase online directly from their favorite brands, but to then pick up in person at their local retailer and get things like fittings and assembly," said Ben Barenholtz, VP Marketing at Quivers. "With unique features like this, Quivers is becoming the central nervous system that connects brands' commerce stack across online shopping and physical fulfillment."
Want to know more about Quivers' BOPIS features? Check out our press release.
Or, if you're keen to see Quivers in action, don't hesitate to contact us for a demo today.